The animal health industry starts with people who directly care for animals: the farmers, pet owners and veterinary professionals who work and live with animals every day.
The complete animal health industry is far larger. It includes anyone who, directly or indirectly, cares for animals of all types, or provides products that help people who do. The animal health industry includes:
Producing, testing and distributing food, vaccines and medication for animals
Coding apps to track milk and egg production, the number of miles your dog walked or the amount of water your cat drank today
Sewing horse blankets and dog coats
Designing state-of-the-art veterinary hospitals, special ultrasound machines for horses or injectors for treating farmed fish
All of these businesses add up to hundreds of thousands of people in the US alone, and millions across the globe.
It's no surprise, then, to learn that the animal health industry is important to the American and global economy.
"The business of keeping animals healthy – which also keeps humans healthy – is an integral part of the U.S. economy."
The Global Animal Health Market
The global animal health market, defined as pharmaceuticals, biologicals, parasiticides, anti-infectives and medical feed additives for animals of all kinds, is estimated to be $34 billion in 2020. This represents 5% growth vs. 2019, above its 10 year average annual growth rate. 1 The animal health industry is expanding, particularly in parasiticides, biologics and diagnostics.
Globally, the food animal segment makes up 59% of the animal health market.2 Around the world, food animal production does more than give people protein to eat. In the world's poorest countries, about 70% of people's income is from food animal production. More than 1.3 billion people worldwide depend on livestock production for their livelihood.3
Companies in the global animal health industry are at the cutting edge of innovations in animal health and welfare.  Industry members invest more than $3 billion each year in research and development of new medicines for animals.3 Additional investments foster innovation in disease prevention and diagnosis, improved production techniques and a safer, more sustainable food supply for all of us.
The US Animal Health Market
The US animal health market is about 30% of the global market, or approximately a  $10 billion business.2 In 2020, the pet segment of the US animal health industry generated $104 billion in sales. That includes pet foods and treats ($42 billion), supplies and OTC products ($22 Billion), veterinary care and medicines ($31.4 billion), and other miscellaneous products and services ($8 billion). 4
The US food animal segment of animal health is a $5 billion business. In 2020, the COVID-19 pandemic significantly affected this segment. Temporary disruptions in meat processing had a ripple effect all the way back to animal breeders and producers.
Animal nutrition is another major segment of the animal health industry. The animal nutrition industry provides the nutritious and delicious food we feed our pets and livestock. People working in animal nutrition help ensure the safety of our food supply, by keeping our cattle, swine and poultry healthy and strong.
America's domestic animals eat more than 284 million tons of food and feed every year.5 Dogs and cats eat almost 10 million tons of this; the rest is eaten by the farm animals that provide our weekend barbeques and morning omelettes.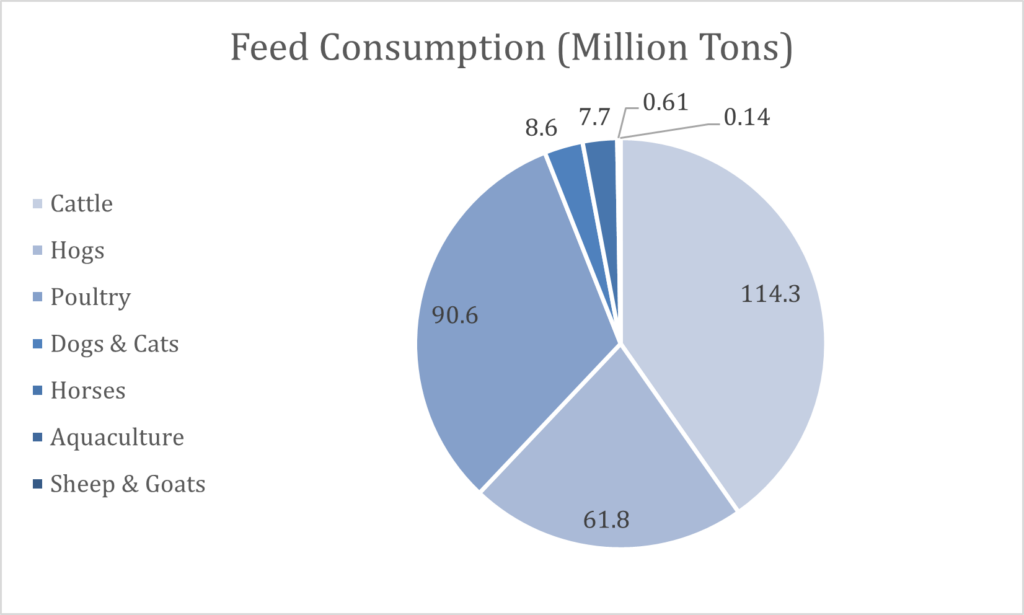 Source: American Feed Industry Association
The animal health industry continues to grow, even in the face of difficult macroeconomic times, primarily reflecting our growing emotional connections with our pets and the strength of the human-animal bond.
The US animal health industry is an economic pillar, providing 1.4 million jobs and $54.8 billion in wages to hard-working people. The industry invests an average of 8.5% of annual sales in research and development. 6
The US Veterinary Industry
What is the veterinary industry? When we think of veterinary medicine, we think of the veterinarians, veterinary technicians, veterinary nurses, and other dedicated staff working with animals in clinics or on farms every day. These people make up the veterinary profession. The US veterinary services market has been estimated at  $26.2 billion in 2020.
The veterinary industry directly supports the veterinary profession with the goods and services they need to provide quality care to our animals. These goods and services include surgical equipment, diagnostic tests and equipment,  veterinary hospital architectural design, practice managers, and any other product or activity that helps the practice of veterinary medicine run smoothly.
The animal health industry offers a wide variety of roles for people with almost any background and a passion for animals. Many members of the veterinary profession find opportunities elsewhere in the animal health industry, working in roles that may or may not be directly related to animal care.
If you are looking for a new home in animal health, animal nutrition or the veterinary industry, take the first step today. Post your resume on Animal Health Jobs and register for job alerts.
Sign up for our newsletter to learn more about trends in animal health and animal nutrition.
1. Brakke Consulting: 2021 Animal Health Industry Overview webinar presented 23 February 2021
2. Brakke Consulting internal data